"In Secret"–Family Casualties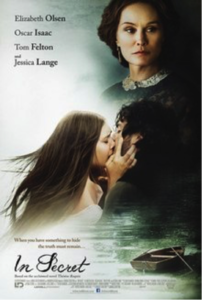 In Secret depicts the desperate life of an orphaned girl as she becomes a  sexually repressed young woman. This 2013 American erotic thriller (previously titled Thérèse), is based on Émile Zola's  classic novel,  Thérèse Raquin.  
In 1860s Paris, Thérèse Raquin (Elizabeth Olsen) is trapped in a loveless and sexless marriage to her sickly cousin, Camille (Tom Felton who played Draco Malfoy in the "Harry Potter" series). Thérèse is forced by her domineering aunt, Madame Raquin (the extraordinary Jessica Lange), to accept his marriage proposal, which essentially binding her to becoming a full-time caretaker. She spends her days languishing behind the counter of her aunt's small shop until she meets her husband's alluring artist friend Laurent LeClaire (Oscar Isaac). whose sexual charms she finds irresistible. Later Madame Raquin is incapacitated by a stroke and Thérèse's caregiving role expands. The psychological tension rivals Dostoevski's Crime and Punishment. Who understands one's motives? Although it's not easy to empathize with any of the characters, we can follow their flawed neurotic devolution into a dark and frightening world of unforeseen consequences.
In this captivating drama the lines are brilliantly blurred between hero and villain, lover and traitor. The viewer will quickly discover that there are no characters to cheer: one moment there is empathy and the next, repugnance.   The ensemble cast depicts these multi-dimensional characters fraught with mental aberrations almost effortlessly and with brutal honesty, capturing the devastating effects of attempting to achieve freedom and happiness no matter what the cost.
So cleverly ambiguous is the moral ground constructed by Zola that a powerful, intense, shocking human tale of lust, revenge and tragedy unfolds.  In Secret is a sleeper of a movie not to be missed!
Note: Available on DVD from Netflix.