"The Alienist: Angel of Darkness" (Season Two)–Stranger Things Happen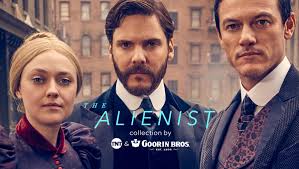 In this relatively seamless sequel to "The Alienist", based on Caleb Carr's second psychological thriller, season two is a retelling of Carr's Angel of Darkness. But this is much more than a sequel. (For my review of season one, see my April 29, 2018 review: "The Alienist"–Something Wicked This Way Comes).
The year is 1897, a scant three years before the dawn of the 20th century, in the Gilded Age. In New York City, a serial killer is kidnapping and murdering babies. Angel of Darkness opens with a grisly scene of Martha Napp, perhaps wrongfully accused of murdering her child, sitting in the electric chair preparing to be the first woman to be executed by that means as well as the first person in the US to be found guilty without finding a murdered body as evidence.
In season two there is a new case to solve. And Dr. Laszlo Kreizler (Daniel Brühl), the "alienist" (the Victorian term for the new profession of psychiatrist), John Schuyler Moore (Luke Evans) now a New York Times journalist and one of high society's most eligible bachelors, and Sara Howard (Dakota Fanning), the first woman detective with her own agency in New York. They are determined to find the baby-murderer.
Martha Napp's baby disappeared from a lying-in hospital, born to an unwed mother. The second baby, taken the same day as the first mother's execution, was kidnapped from the Fifth Avenue mansion of the Spanish ambassador.
In this season Sara takes the lead as the forceful investigator who must confront not only the city's underground gangsters, but sexism, a corrupt police commissioner (the wonderfully quirky Ted Levine from "The Closer") and the newspaper mogul, William Randolph Hearst. This is a major shift from the first season when Dr. Laszlo Kreizler was the compelling but abrasive smartest guy in the room. Now he plays a secondary, not really titular role, as the alienist who lacks any social skills and forgets other people in the room have feelings. It's Sara Howard who is the mastermind.
The "lying-in hospital" is the venue of interest, perhaps the source of the crimes involving newborns. Libby Hatch (newcomer Rosy McEwen), is a young nurse and would-be whistleblower who befriends Sara and supplies much-needed information.
Red herrings proliferate throughout the eight episodes.
As with Season 1, Angel of Darkness skewers themes relating to social status, discrimination based on sex and ethnicity, corrupt policing, and crony journalism. One of the more interesting subplots in this season is the competing newspapers' need for headline-grabbing: William Randolph Hearst's New York Journal versus the New York Times.
There are also a few clever gender reversals when it comes to who rescues a colleague from a beating, who's marrying for money, and who has the courage to express their feelings towards the object of their affection.
In one particularly memorable scene, Sara Howard as a laser-focused Sherlock Holmes type, ponders a doll, purchased at a department store catering to the upper-class. Viewers watch a little girl innocently pick up an odd purple babydoll, which turns out to be a dead infant.
Decadence and gentility reside side by side with degradation, cruelty and violence. That this Gilded Age is mere window dressing for a savage murder mystery should be riveting enough for binge-viewing.
Availability: TNT channel and TNT.com. Season Two [The Alienist: Angel of Darkness] can be seen without having to watch Season One first. Both seasons are excellent.
Note: Newcomer Rosy McEwen is an actress to watch. Reminding this viewer of Nicole Kidman both in superb skill and appearance, every scene she is in is unforgettable.
The series loosely ties itself to history. Howard, for instance, is (sort of) based on Isabella Goodwin, New York's first female detective.
Note: For an interesting interview with the three main actors, see the Hollywood Reporter.