"Goliath" Season 4 (Finale)–Addiction
In this final season of Goliath we again see the still down-and-out "lemon lawyer" Billy McBride (Billy Bob Thornton) take on a giant corporation. This time it is an opioid mega-corporation, Zax Pharmaceuticals, and its billionaire CEO, George Zax (J.K. Simmons). In a fierce and lurid courtroom battle in San Francisco (eerily conjuring the Sackler family and Purdue Pharma in recent headlines), will McBride prevail?
Season 4 opens with a flashback to Billy McBride, narrowly escaping death by gunshot. Billy's mental condition and circumstances propel him into flights of fantasy, perhaps post-traumatic stress disorder, mixed into a cocktail of alcohol.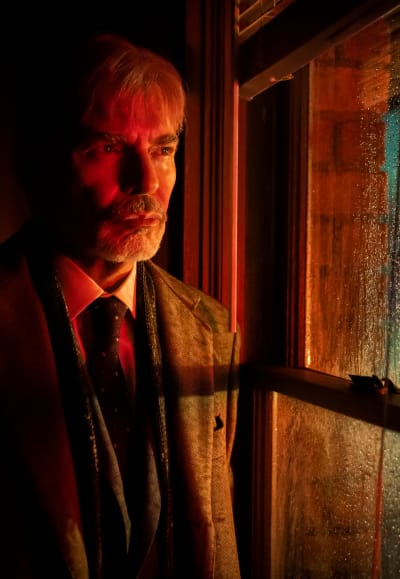 McBride is temporarily residing in Chinatown, his apartment paid for by Margolis & True, the white-shoe law firm representing Zax Pharma. His former partner Patty (Nina Arianda), now employed by Margolis & True, has offered him a gig not only as a loyal colleague, but also because McBride is the best litigator she knows, even if other colleagues don't agree.
Other characters add to the escalating courtroom battle. The estranged brother, Frank Zax (Bruce Dern), and a daughter whom his brother finagled into adopting. As dueling, antagonistic brothers intent on destroying each other, Frank and George Zax turn sibling friction into fiery and merciless conflict.

Goliath Season 4 pulls back the curtain on the opioid crisis that is relevant to the present day. It hones in on its displeasure at the lives lost for obscene corporate profit.
This is the best season since Season 1 (see my October 23, 2016 review).  Goliath always has had noirish overtones of Alfred Hitchcock, but in Season 4 some (not so subtle) scenes pay  homage to Rear Window.  It's not always easy to tell how much is real and what's imagined (which usually, but not always, is telegraphed by filming in black-and-white flashbacks and fever-dream images).   Nonetheless, this finale is riveting and compulsive watching.  Some overwrought scenes drag the momentum from time to time.  There is even a dance-and-song routine by J.K. Simmons, but he is so much fun to watch at his villainous best! Binge-view it to keep track of characters and threads in the plot!
Availability: Amazon Prime